Features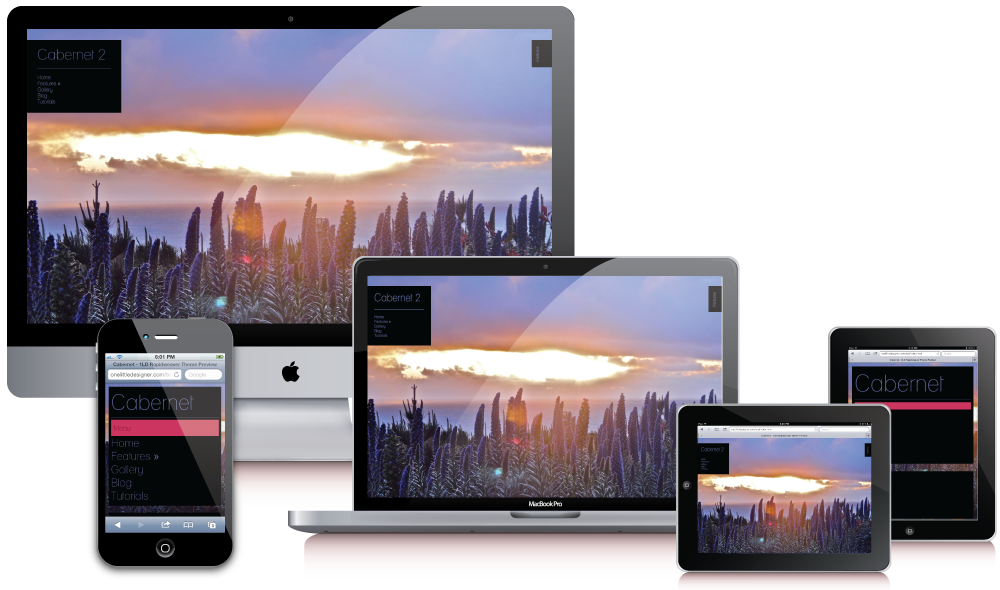 Full Page Slider
This theme uses the jQuery Supersized! animated fullscreen background slideshow. This built in plug-in will automatically size your photos to fit any screen size while keeping the original ratio of the photo. Use any photo from your resources to create a beautiful background or even a slideshow with unlimited slides. This theme supports multiple slider images that can be different from page to page.
Responsive
You will find that Cabernet 2 is completely fluid in design. Made to fit the largest to the smallest of screens. The layout will change to ensure that it is easy to read & navigate for every visitor while maximizing the use of window space.
8 Elegant Fonts
Fonts can be one of the most crucial elements to your web site. Cabernet 2 comes preloaded with 8 Elegant Fonts to give your site or portfolio a nice simple & clean look.
Full Page Gallery Controls
Turn the gallery controls on & turn any page into a full screen Gallery. Users can easily navigate through your photos with on screen buttons, thumbnails, bullets, & even the keyboard arrows. The menu will hide & allow your visitors to see your photos & artwork fullscreen.
62 Social Media Icons
Easy to implement minimalistic social media icons. Use your keyboard to add any one of the 62 icons & simply add a link to your desired social media page.
Pretty Photo Viewer
Cabernet 2 includes jQuery Pretty Photo Viewer for easy photo setup & storage. Make Your Rapidweaver built-in photo albums easy to navigate & view.
Hidden Sidebar
The sidebar will stay hidden to keep your site as minimalistic as possible & will animate when the tab is hovered or clicked. When viewed on small screened devices the sidebar will restyle allowing visitors to see the hidden content without using the tab.
4 Background Accents
Enhance your photos with texture using the built in Background Accents.
Browser Support
This theme was tested in all major browsers and even coded to work in IE back to version 7.