Simple Buttons Pro
(7.99)
Simple Buttons Pro adds
Font Awesome
into the mix allowing you to place the huge library of Font Awesome Icons into your buttons. In addition, you can use custom images including the
5 round icons
(along with
PSD files
) displayed below. Finally, you have access to the
Advanced controls
, which give you more control over some awesome effects (see next tab).
See All Font Awesome Icons
Font Awesome is a free third-party plugin that is currently under development. Icons working or not is a guarantee, though continual updates to Simple Buttons will be done to ensure the latest version of Font Awesome is in use.
Trans Sec In: Transition Seconds In
Trans Sec Out: Transition Seconds Out
SHADOWS: Horizontal Shadow, Vertical Shadow, Blur, Color
Text Shadow: Text Shadow Angle & Color
T Shadow (hover): Text Shadow Hover
Button Shadow: Button Shadow Angle & Color
B Shadow (hov): Button Shadow Hover
Button Rotate: Button Rotation Angle
B Rotate (hover): Button Rotation Hover Angle
Opacity In: Percentage Value of Opacity (0=transparent) - use decimals (i.e. 0.5 = 50%)
Opacity Out: Opacity Exit Value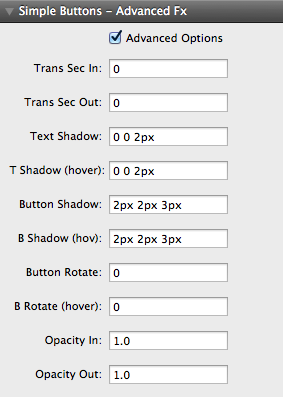 General Controls
All Gradients
Font Awesome Icons
Round Icons
Advanced Controls
cleanLists, cleanTabs, cleanResponse
Project File
General Controls
All Gradients
Font Awesome Icons
Round Icons
Advanced Controls
cleanLists, cleanTabs, cleanResponse
Project File
General Controls
All Gradients
Font Awesome Icons
Round Icons
Advanced Controls
Cinema Theme
cleanLists, cleanTabs, cleanResponse
Project File
General Controls
All Gradients
Font Awesome Icons
Round Icons
Advanced Controls
Cinema Theme
cleanLists, cleanTabs, cleanResponse
Project File